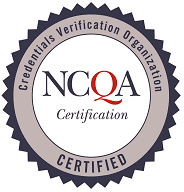 WHO WE ARE
Credentialing Corporation of America, Inc. (CCA) is a credentials verification organization (CVO) that is available to provide on-going credentialing services or complete one-time projects for hospitals, ambulatory surgery centers, PHOs, IPAs, managed behavioral healthcare organizations (MBHOs), and managed care organizations (MCOs) such as HMOs and PPOs.
Effective August 8th, 2022, CCA was certified by NCQA for the fourteenth time. CCA achieved certification from NCQA as a CVO for managed care organization (MCO) practitioners, preferred provider organization (PPO) practitioners, and managed behavioral healthcare organization (MBHO) practitioners for 10 out of 10 elements. Certification is considered current and in good standing until August 8, 2024.
What is involved in the NCQA certification process?
The NCQA certification process is a voluntary review process, which includes rigorous on-site evaluations conducted by a team of health care professionals. They evaluate a CVO's management of various aspects of its data collection and verification operations, as well as the process it uses to continuously improve the services it provides. A national oversight committee of physicians analyzes the team's findings and determines certification based on the CVO's compliance with NCQA standards.
What does NCQA certification status mean to your organization?
NCQA CVO certification is a substitute for health plan oversight of a CVO's structure and performance in verifying provider credentials. Therefore, utilizing a CVO that is currently certified can substantially reduce the oversight activities required in the delegation process, allowing you to operate more efficiently.
The National Committee for Quality Assurance (NCQA) is an independent, non-profit organization dedicated to assessing and reporting on the quality of managed care plans, managed behavioral healthcare organizations, preferred provider organizations, new health plans, physician organizations, and credentials verification organizations.